Clearly - being back at work is having an effect on my blogging. Hence, my posts these days are few and far between. Somehow, I managed to squeeze in the time, today, to make little Ella her very own zebra tutu.
If there are two things Ella LOVES, they are skirts and animals:
1. Each day when we get home from daycare (or after she wakes up on the mornings we get to stay home), she requests a skirt with her 'glass slippers' (aka - dress up shoes), no pants and no socks. Luckily it has been warm enough in our house for this wardrobe...but it's not pretty when we have to go outside.
2. She often pretends to be different animals (puppies, kitten, bunnies, kangaroos and frogs) AND she recites random animal facts learnt from Diego (IE. Mommy, did you know Sloths have very sharp claws so they can hang from trees?)
So naturally, I made her a Zebra Tutu. Definitely not as nice as the beautiful tutu she got from Princess Bean Boutique for her birthday (pictured in this post), but pretty darn cute (plus, she seems to like it!).
Here are the materials I used:
Scissors, 2 Zebra print Fat-Quarters, Tulle, elastic
A couple months ago, I picked up two fat-quarters of this zebra material. Aren't fat-quarters AMAZING!! So many projects can be made for so little cash! I also had this bolt of tulle left-over from our wedding - you know just lying around for the past 4 years. I also bought this 3/4 inch elastic for another project and I had some leftover. I decided to go with elastic rather than ribbon because then Ella can put the skirt on herself rather than waiting for me to tie it up for her.
1. Measure the waist size and cut the elastic accordingly. I used the sewing machine to stitch the ends of the elastic together.
2. Cut your tulle into pieces 24 inches long by 4 to 5 inches wide. Using pinking shears, cut the fat-quarters into strips about 2 inches wide (the length of the fabric). You will need to cut the tulle as you go because it's hard to determine how many strips will be needed - I use two pieces of tulle together for each section of tulle.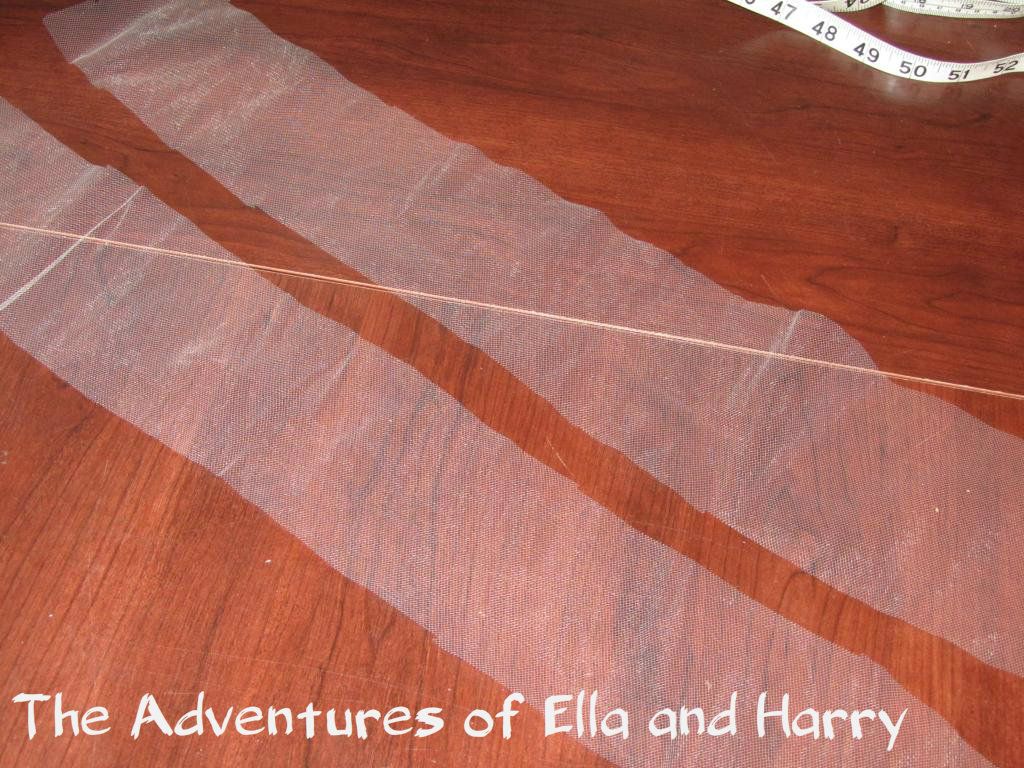 3. I started by attaching all of the pieces of the zebra material, and then I filled in the gaps with plain tulle. The pieces with zebra consist of two strips of tulle and 1 strip of zebra. Fold those three pieces of material in half (R side of zebra facing out) and attach to the elastic.
Here's a close-up of how I tied the tulle onto the elastic. You will need to make a loop with the folded end of tulle and pull the cut ends through. Pull the material as tightly as you can. Same process for the strips with the zebra print.
4. After all of the zebra pieces are attached, you can fill in the empty parts of the elastic. I started by tying strips of tulle-only between each of the zebra strips. Afterwards, I realized I needed two strips of tulle-only between each of the zebra strips. The pattern goes 1 zebra strip, 2 tulle strips repeated.
I was able to make this skirt in less than an hour with minimal sewing (like about 30 seconds of sitting at the sewing machine). So easy to make and SO cute!
Ella was very excited to try on her skirt, although, she was on her way to bed...and the skirt wasn't quite finished at the point. She'll have tons of time to try it out tomorrow.
Of course, she refuses to look at the camera...
...and when she does, she pulls the skirt up to her armpits. Silly girl.
Luckily, I found another friend who was willing to pose for the camera!
Should I make her a matching headband?!
Thanks for reading :D