We had such a fun and exciting activity planned for today - the Christmas sensory bin! My friend Lindsay from the blog
Know Better Now
whipped up this amazing Christmas sensory bin for us...
Here are the contents of this bin:
-rice dyed with red and green food colouring
-different coloured plastic beads
-Christmas erasers (snowman, Santa, polar bear and reindeer)
-different coloured bells
-glittery foam shapes of various colours (stocking, tree and snowflake)
All of these items came from the dollar store - I know, I was there!
The key to a great sensory bin is a variety of colours, shapes and textures. While the kids played, I was happy to sit there running my fingers through the rice (great for kids AND moms!).
This bin was great for Ella's age (three), but it also worked pretty well for Harrison (one)...except for all the rice he spilled on the carpet. We also had to keep a pretty close eye to make sure he didn't eat anything.
Harrison was happy to transfer items back and forth from one bin to another.
These items have been 'fished' out of the rice.
One thing I found that was important for this activity, was to let each child play with the bin individually. I'm all for sharing toys, but Ella was really interested in sitting up at the table (by herself), and when I let her, she played for quite awhile by herself - this is what we want, people!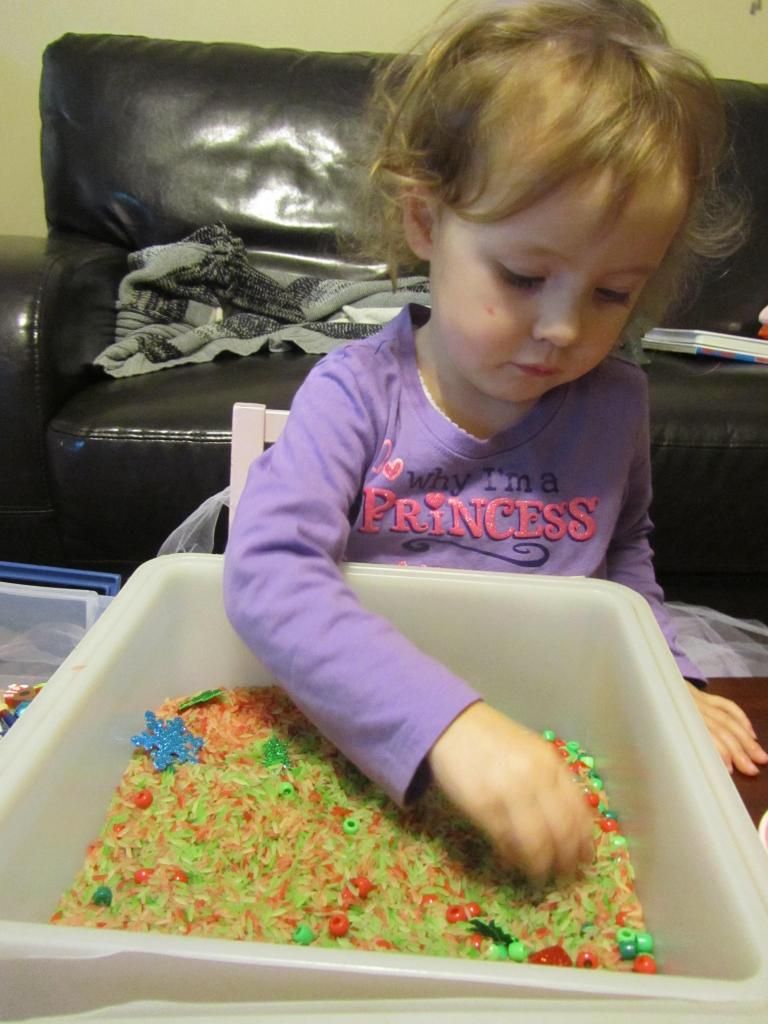 At the end of the day, we are so happy to have this sensory bin. I'm fairly confident the kids will be into it everyday this month. You should make one too!