We're back! Did anyone miss us? Well, we were finally overtaken by the flu...and it wasn't pretty! Of course Adam and I got sick at the exact same time, so the kids spent a of couple days at Nan's and Pops' house while Adam and I recuperated.
I didn't get a chance to write my post for day seventeen (or Day Eighteen - see below). Luckily, the flu hit us after our visit with Santa. Day seventeen's activity was a trip to the mall to see Santa and (hopefully) sit on his knee for a picture.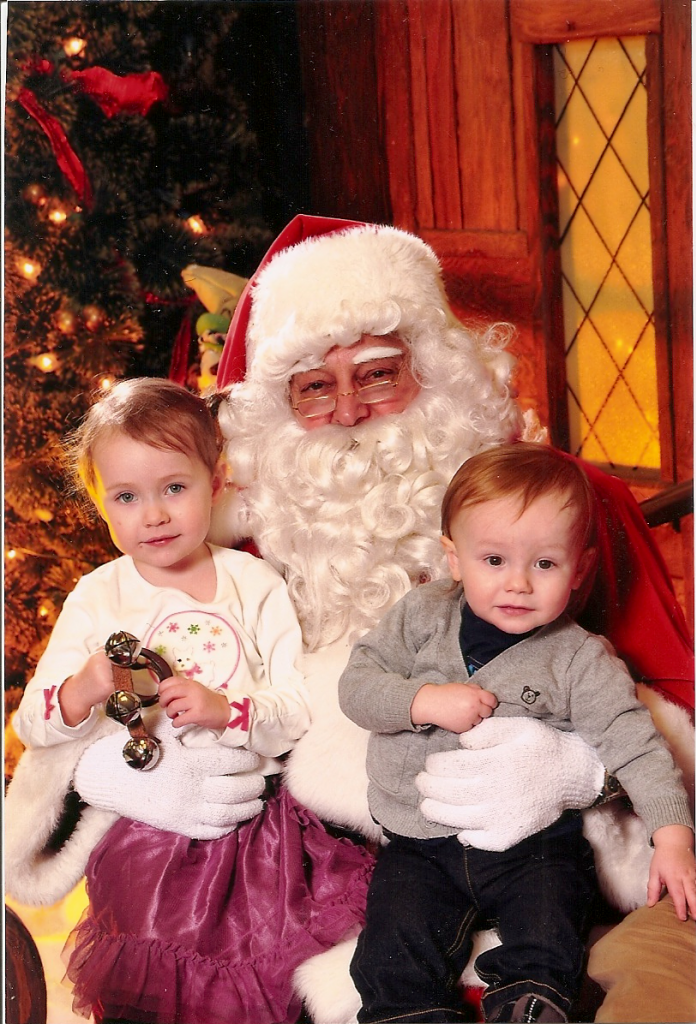 Much to our surprise, both kids sat with Santa and took a reasonable picture. When we first walked into the mall, Ella began looking for Santa right away. They pretty much spotted each other at the same time (Ella and Santa, I mean), and Santa began waving and jingling his bells. I think Ella almost peed herself. She was part excited and part nervous that he was waving to her.
This was really her first year going up to Santa willingly to sit on his knee. Although, she still needed her Daddy to tell Santa what she wanted for Christmas. 
I may as well share day eighteen with you while I'm here. The planned activity was to do a Christmas craft, but I fully expected to skip it because we were sick. To my surprise, the kids showed up here tonight with two Christmas wreath crafts and Nan had a camera full of pictures to prove it! (ha ha - I see someone feels my blog commitment!)
Here are the completed wreaths - Ella used green ribbon and Harry used blue ribbon. They were so proud when they brought them home to show us!
Nan also included some pictures of the wreaths being created...
...hmmm, looks these wreaths are multi-purpose!
What else did these children get up to while they were away?
Baking...
...jumping on the bed...
...playing...
...and helping deliver toys for the toy drive.
Looks like they had a great time! Maybe Mom and Dad should get sick more often?!......hmmmm.
Stay tuned for 10 minutes from now when I post today's activity.
Thanks for reading :D